This is Lily-Rose Melody Depp, the daughter of Johnny Depp and Vanessa Paradis. Glamorous, right?
She appear in many magazine publications, French movies such as La Danseur, one Canadian movie called Yoga Hoser (you can watch it on Netflix) which appear Paradis and "Double Depps." As Lily rise to fame,  I made a time line of all the Chanel things she wore during this and last year as well my journey of discovery of  Lily-Rose Melody Depp.
Note: I been living and breathing fashion since 3 years ago. I know Lily appear in earlier Chanel fashion shows but I'm making this post of where did I begin to hear her name and notice her.
It started when I was reading an article from Vogue which talk about who was in the Chanel Spring 2016 Ready-to-Wear. It was the same year as Cara Delevingne's hiatus on modeling.
October 6, 2015
This the first picture that I saw of Lily-Rose Depp.
She is wearing blue jeans, a red thick choker, and a top shirt which look like it could come from the Chanel Resort 2016. It might be custom just for her.
February 8, 2016
I saw on the magazine cover of Love. It gave me the thought that Lily is more than the child of these famous people, she is full with talent!
February 20, 2016
                                                                               @lily_rosedepppeachy
Lily was caught wearing her beloved mother shirt at Los Angeles.
May 2, 2016
This was a special day for Lily as it was her first time going to the Met Gala. She is wearing Chanel 2016 Spring Couture.
May 11-22, 2016
Lily was at Cannes to promote her new movie, La Danseur.
She is wearing Chanel 2017 Resort.
She is wearing Chanel Fall 2016 Ready-to-Wear
May 12, 2016
After seeing Lily at the Met Gala (through my phone), I decided to see her on any social media platforms. I check on Instagram first. After reading her Bio, I felt like I just hit the jackpot.
There I found these two wonderful Instagram posts
August 16, 2016
Lily appears in the new campaign of L'eau Chanel Number 5.
After this beautiful ad, I begin to admire Lily. She is mature for her age, and she is calm. She does not dress for people to notice her which I admire.
August 31- September 10, 2016
                                                                           @lilyrosedepppeachy
Lily appears in Venice Film Festival wearing Chanel 2017 Resort.
September 12, 2016
Lily is dress up in Chanel 2017 Resort once again! She is in Toronto for the premiere of "Planetaruim."
She is wearing Chanel 2017 Resort. She must be a great fan for this specific collection.
Near the end of 2016, Lily appear in the cover of British Vogue.

She also appears in the cover of Vogue Paris with Karl Lagerfeld.
December 7, 2016
The number 7 is a lucky number, they say. It must be true because this is the exact day in December when Lily walk in her first fashion show!
Hello 2017!
January 4, 2017
Lily started the 4th day of the year with a vintage Chanel bomber jacket according to Vogue.
This is was also the day when I discover that ,in fact, Lily has a boyfriend. No other than the British bad boy Ash Stymest, who doesn't get the approval of Daddy Depp claimed many sources.  Ash Stymest is a 25-year-old model who been seen in Chanel, Vogue Hommes, Italian Vogue, EY! Electric Youth!, and Dazed & Confused.
Even though it alarms Daddy Depp that Ash has a 4-year-old daughter, Ash appear to have a soft spot for his daughter in Instagram.
Even though, he deleted every picture on his Instagram.Is he off for a new begging? Lucky, no matter who you are you will always have admirers who always got your back. To be fair with you, He looks kinda cute. Bravo Lily! You got good taste. I think Vanessa Paradis thinks too! Why else would she approve him as a lovely boy.
Feburary 17, 2017
02-17-17 guess what else is 17? Yes! Lily is 17. She is now the new face for Chanel  Rouge Coco Gloss.
In the campaign, she is wearing once again 2017 Chanel Resort.
February 24, 2017
In the Cesar Awards, Lily appear with a daring look! Coming from Chanel 2017 Spring Couture, She wore the dress that Bella Hadid model in the fashion show.

In the Cesar Awards, Lily appear with a daring look! Coming from Chanel 2017 Spring Couture, She wore the dress that Bella Hadid model in the fashion show.
March 23, 2017
Lily wearing the Chanel boots from the Fall 2017 Ready-to-Wear collection.
                                                                              @lily_rosedepppeachy
March 27, 2017
She has been feature in Vogue Italia!
April 15, 2017
This is the day for Lily 2nd time on the Runway. The first and the last outfit are always the one to be remembered. It seems that Karl Lagerfeld want everyone to remember Lily in Chanel 2017 Spring Couture.
May 1, 2017
Do you know what else is Lily second time? Yes, it is her second time going to the Met Gala! As always wearing Chanel!
May 18, 2017
Greek Goddess, Lily-Rose Melody Depp, appears in Chanel at Cannes!
May 28, 2017
Lily turn 18.
June 1, 2017
Chanel created again Lily's first runway show in Tokyo, Japan.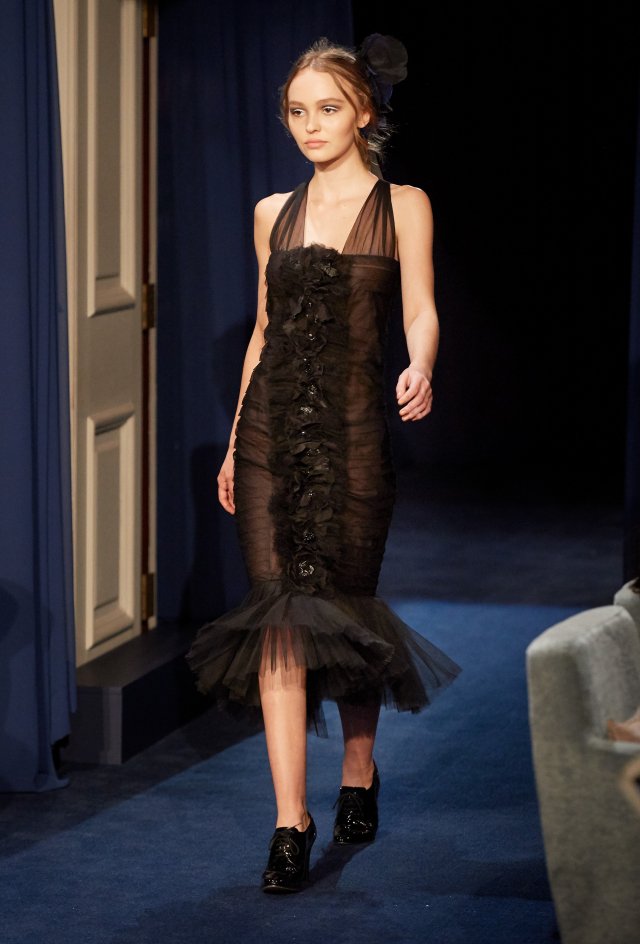 I hope you like this post. I work really hard on it ( 7 hours specifically). Tell me anything that is missing.
Thanks for reading!
Bye!
B.D.
Disclaimer : None of these pictures are mine and belong to it respectful owners. If you are the owner of one of these pictures and want me to take it down, I am gladly to do so, just let me know like on the comments. :)